Szkolenia
---
Hair Transplant Training Program
Our intensive, hands-on training is a two-week-long training program where the trainee performs surgery along with me to get the first-hand experience. Please keep in mind that this 2-week program is not a set-date workshop. The training date is decided by both me and the trainee upon availability.
We try to schedule a variety of cases, FUT, FUE, female hair transplants, first session, second session, patients with different Norwood classes. It's important that the trainee practice all of that, in order to be able to have a good start.
As for the number of doctors who will be attending the 2 weeks training is one doctor, meaning you will be the only one during that period and this is the point and the value of one-on-one training, which is about touching, doing, talking to the patient, learning from the staff and so forth. This is what I mean by hands-on training.
Language of communication in Poland is Polish, but the majority of Polish people do speak English and due to the fact that most of my patients come from the UK, Ireland, Germany, Spain, and other European countries and some from the USA and Australia, thus the language of communication at the clinic is English.
The training takes place at our clinic in Wroclaw, Poland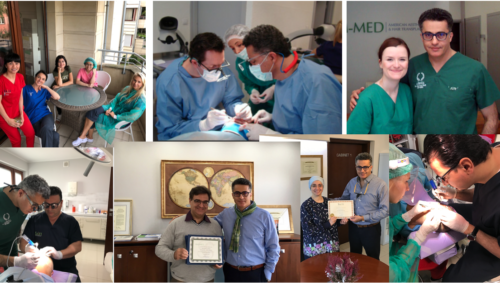 Doctor Saifi reserves the right to limit the hair restoration training courses to appropriate candidates
Hair Transplant Training Program
Consultation process and key points, hair and scalp evaluation.

The hairline design (transition point, defined zone, frontal tuft, and the are of distributing these grafts depending on size, location density and so forth).

Local anesthesia- my technique

Mega session and dense packing

FUE technique, using different devices

FUT technique (the strip technique) with Trichophytic wound closure

Exosomes Hair Restoration

PRP

Possible eyebrows and beard hair transplantation

Trichology training and applying CRLAB treatment products (healthy scalp, healthy hair)

Telephone assistance for one year and help with photo-consultations via email

You will learn about the newest instrumentation and products used in the business, which gives the patient the best results and speedy recovery. Also, how to set up a new clinic and how to start

The cost of the training is more of an investment for the physicians which will help them expand their practice areas and the cost pays for itself even within their first week back to work. The doctors who have attended the training have left excellent feedback about the program and are very thankful that we made it possible for them to excel in the field of hair restoration surgery
Doctors participated in the program